Tourist map of Cala Gonone, Sardinia and Dorgali, Sardinia. Shows points of interest. Scanned...
0 miles away
Near Cala Gonone, Sardinia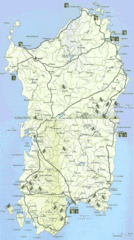 Trail map of mountain biking trails on the island of Sardinia, Italy. Shows entire island. Scanned.
37 miles away
Near Sardinia, Italy
Map of ancient Italy, Sicily, and Sardinia. Year unknown.
188 miles away
Near Italy
page 1 of 1